There are many ways to start making money online, but few make the process as easy as Swagbucks. The platform helps to put cash back in your wallet through simple tasks and rewards for users. You also receive free cards when you answer surveys or redeem the numerous coupons and cashback offers from the leading stores and brands.
[Read More: Lending Money – Crypto Topics Information]
So, what is Swagbucks? Swagbucks is the world's largest free online rewards community, hosting online rewards programs that allow members to earn reward points, gift cards, and cash back for doing simple online tasks through the Swagbucks portal.
The Swagbucks rewards program is available in most countries of Europe, Asia, and the Americas, with a limited presence in select countries across Africa. Swagbucks also allows users from such countries not supported yet to sign up with their email address for instant notification once Swagbucks become available in their countries.
For the rest, Swagbucks provides an opportunity to earn rewards now. Here's how to join, how to earn, and how to withdraw your rewards easily.
How does Swagbucks work?
Swagbucks rewards are exclusively reserved for its members. To earn gift cards and cash back rewards from more than 1,500 online retailers, one must first join the program by registering on the official website.
However, you must reside in one of the supported countries to access Swagbucks rewards. Most of these countries are in Europe, Asia, and the Americas.
[Read More: Lending Money – Credit Cards Topics Information]
Once you join the Swagbucks program, you can earn different rewards by activating eligible offers.
Other than online shopping, Swagbucks pays its members for other services like completing surveys, in-store shopping, and more, giving users multiple ways to make money from everyday, routine activities.
The Swagbucks process involves three stages: Join, earn, and get free points.
While it is simple to join, new members receive a $10 bonus that is activated once they spend at least $25 on a single purchase from eligible categories.
Users earn SB points for performing eligible actions through Swagbucks.
How to earn with Swagbucks
It is very easy for Swagbucks members to earn from various eligible actions, including online and in-store shopping for cashback rewards.
However, Swagbucks users earn rewards on so many other activities, including non-essential, routine activities you often conduct online.
There are six classes of money-making activities on Swagbucks: shop, answer, discover, search, play, and mobile. Below, we list the different ways to earn under each class.
1. Shop — Cashbacks, Gift cards, Coupons and discounts
Shop online and in-person to earn through:
Swagbucks users earn cash back when eating out, shopping for groceries and other everyday essentials online or in person, and so on. Users receive cashback offers through their Swagbucks accounts.
Once redeemed, you can redeem the offers while shopping online or snap your in-person shopping receipt and upload it to Swagbucks.
Swagbucks will only pay for eligible offers at participating local stores, restaurants, or online retailers. Only use the linked credit cards to pay for your eligible purchases to qualify for cash back.
Swagbucks users can score incredible gift card deals as they shop online. With the gift cards, you can save on your next purchase from popular brands such as CVS, Home Depot, and more with up to 15% cashback savings.
Are you shopping at your neighborhood store? Swagbucks allows users to compare prices, hunt for discounts, and more. Users can also show their pharmacist a coupon code from Swagbucks to get better prices on prescriptions.
2. Answer — Online surveys, Daily polls, Swagbucks Live
Make money via Swagbucks through:
Users can make money online by responding to surveys regarding select products and services. Most surveys pay between 100 and 300 SB points, which you can redeem through gift cards or PayPal cash.
Earn cash by answering the Swagbucks daily poll and discover jolting tidbits about other participating Swagbucks members.
Receive cash for playing daily live trivia games by yourself or with friends.
3. Discover offers
You can receive gift cards by browsing and claiming exclusive deals and offers from established brands. Signing up for a new offer, and checking out free product samples, among other related activities, earns you redeemable SB points.
4. Search the web
You will earn SB points anytime you search the web using a search engine powered by Yahoo. To qualify, you'll have to link your Swagbucks account.
5. Play Games
Play games to earn gift cards. You also earn SB points from in-game purchases through Swagbucks partners at GSN. However, you can also play original free games by Swagbucks to earn randomly.
6. Mobile app
The app is one of the easiest ways to make money on Swagbucks. Users earn gift cards for using the Swagbucks mobile app to shop, answer surveys, and watch interesting videos on the go.
And the beauty of it is that these earning methods are not exclusive.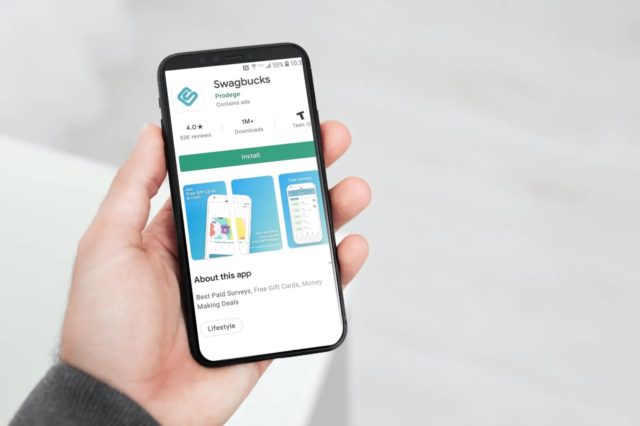 Does Swagbucks pay real money?
Swagbucks users earn and receive real money through automated credit card disbursements and PayPal payouts.
However, there are other modes of payment too. The most popular are SB points earned for a wide range of everyday activities such as searching the web or watching videos online. These SB points are redeemed for gift cards or cash, depending on the offer.
Every 100 SB points equal a dollar in cash or gift cards. Users redeem their SB earnings for gift cards to Amazon and other participating retailers. You can choose to redeem them for cash via PayPal, a linked credit card, or receive a check in the mail.
Is Swagbucks worth doing?
Swagbucks users normally make a few dollars per day for spending about 15 to 30 minutes on the website or app. While these are small amounts, they often add up quickly if you're consistent.
However, you don't want it to commit too much time to Swagbucks. While there is no daily or weekly limit to how much you can make on the platform, the average Swagbucks user will make about $100 a month. Some high-paying offers and games on Swagbucks could make you $1000 or more monthly. People making this much are the exception, however.
How do you cash out on Swagbucks?
You'll need to link an approved credit card to cash out your earnings from Swagbucks. The cards, including Visa, Mastercard, or American Express, must also be used to make payments for all purchases eligible for cashback and other rewards. Cashing out your Swagbucks earnings balance is processed automatically.
Without a minimum payout threshold, you reach the disbursement threshold.
Related Questions
Is Swagbucks a legit website?
Swagbucks is a legitimate rewards platform that has paid its members more than 0 million. Its partnership with leading retailers and brands also adds to this legitimacy.
How long does it take for Swagbucks to pay you?
The median Swagbucks payout period is between 3 and 10 business days to receive your reward. However, some payouts take as long as 28 days to clear, but users can check the progress through the Swagbucks earnings dashboard.
How can you earn SB points?
Swagbucks users earn SB points by shopping in person or online, watching videos, playing games, searching the web through a Yahoo-enabled browser, answering surveys, and finding great deals online.
Conclusion
Swagbucks is a legitimate way to easily earn money online, providing various engaging activities, online offers, and everyday routines. With a reputed position in the rewards business and millions of dollars in payouts, Swagbucks ranks among the best ways to earn a few extra dollars online. Sign up for Swagbucks today.